Audio Engineering
Output Transformerless Vacuum Tube Headphone Amplifier
I have been building vacuum tube guitar and stereo amplifiers since 1988. Audio and music are a hobby and passion of mine. These are some of the projects that have been born from that.

When I got my AKG 701s, I just knew I would have to have a proper headphone amplifier to get the most out of them. Common low cost op-amps found in most consumer audio equipment just don't have the grunt force to drive these cans, nor do they have the finesse to actually let the headphones do what they do, which is get out of the way and deliver great music.
Well, this was a first for me, building an amp for cans, so I decided I'd prototype an amp and see how it goes. The goal was as cheap as possible, with the minimum of hassle with the focus on the circuit and sound, not a final product so to speak. Here's how it went.
Photos
I used an old power transformer and computer power supply case I had laying around. That's cheap.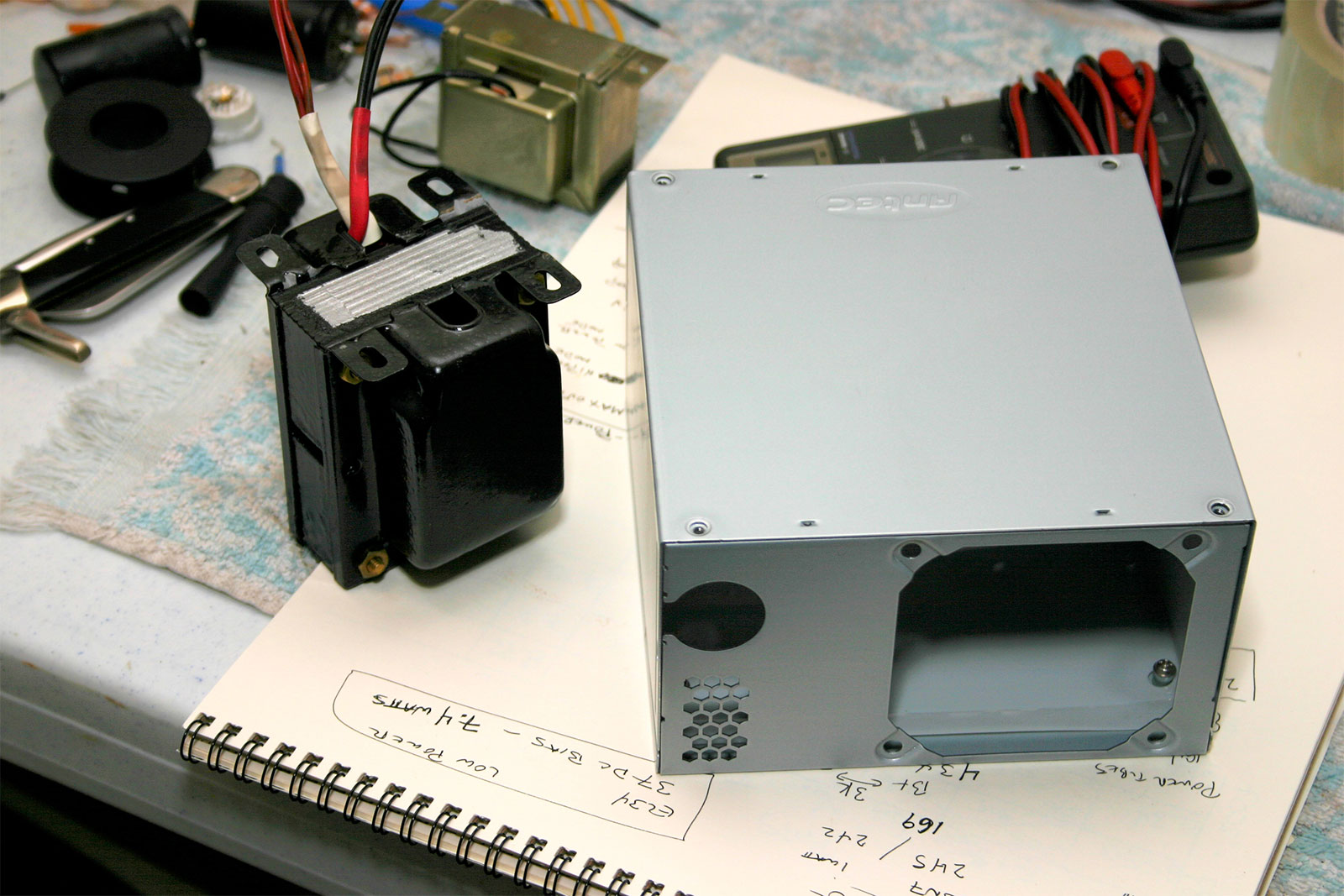 Starting to put it all together. Note the polypropylene output capacitors. They are the size of small juice cans. But they sound very neutral and clean.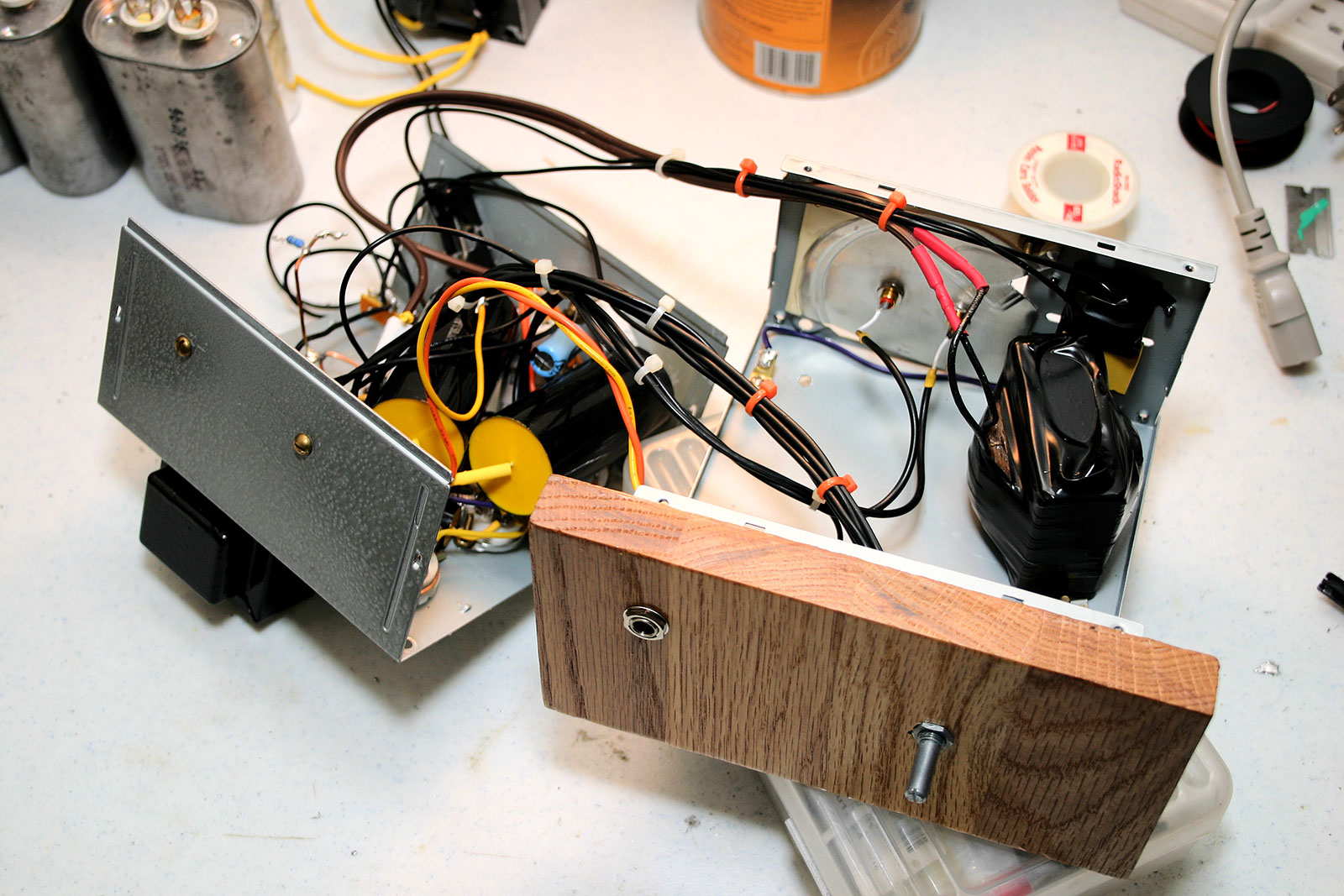 The more I tweaked the circuit, the more I realized there was no room to spare in the case. I used tape to insulate and it all ended up going together like a puzzle box.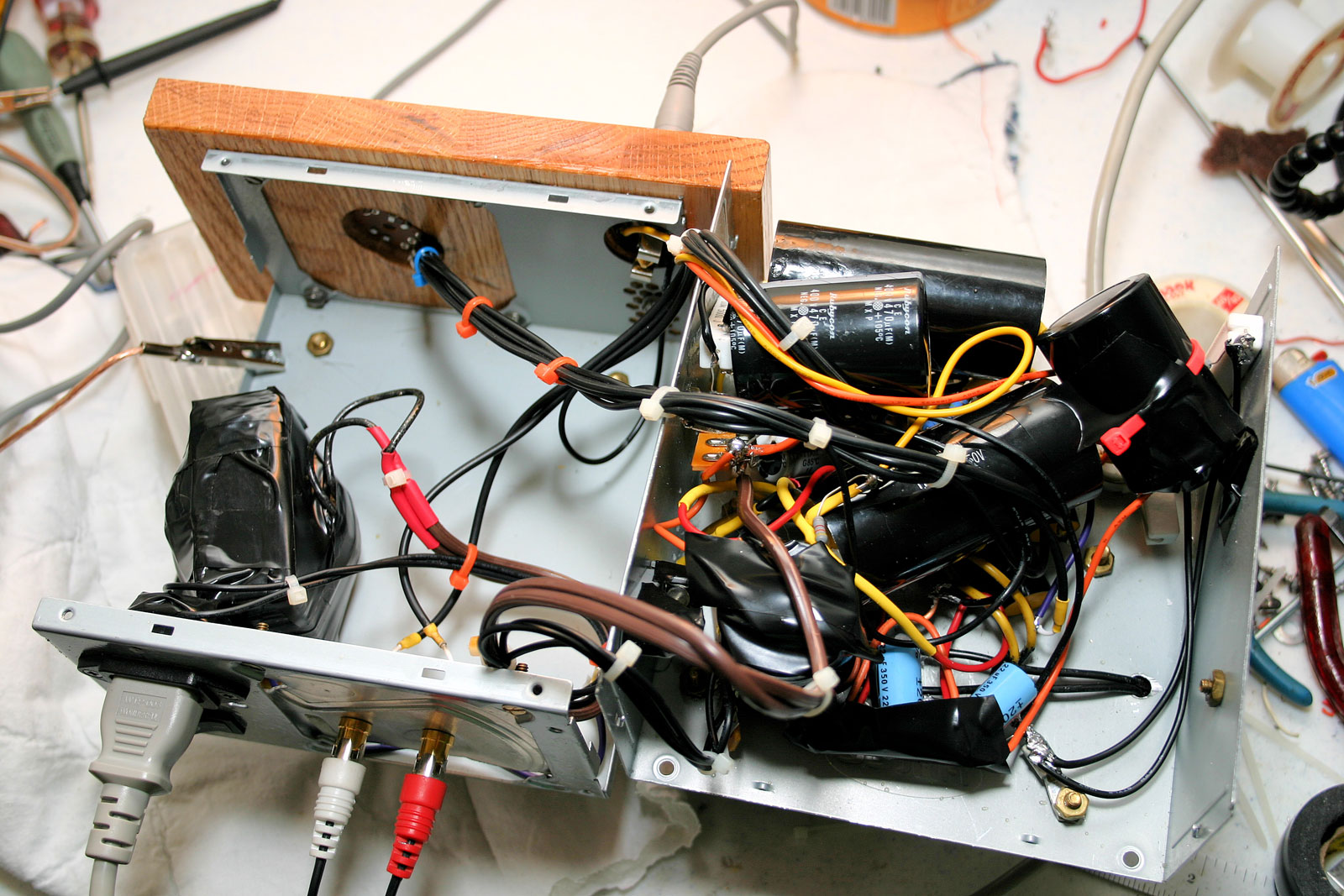 A closer view before we start trying to stick the two sides together.
Literally going together like a puzzle. It amazes me that I got it all in there and that it slides together mostly smoothly.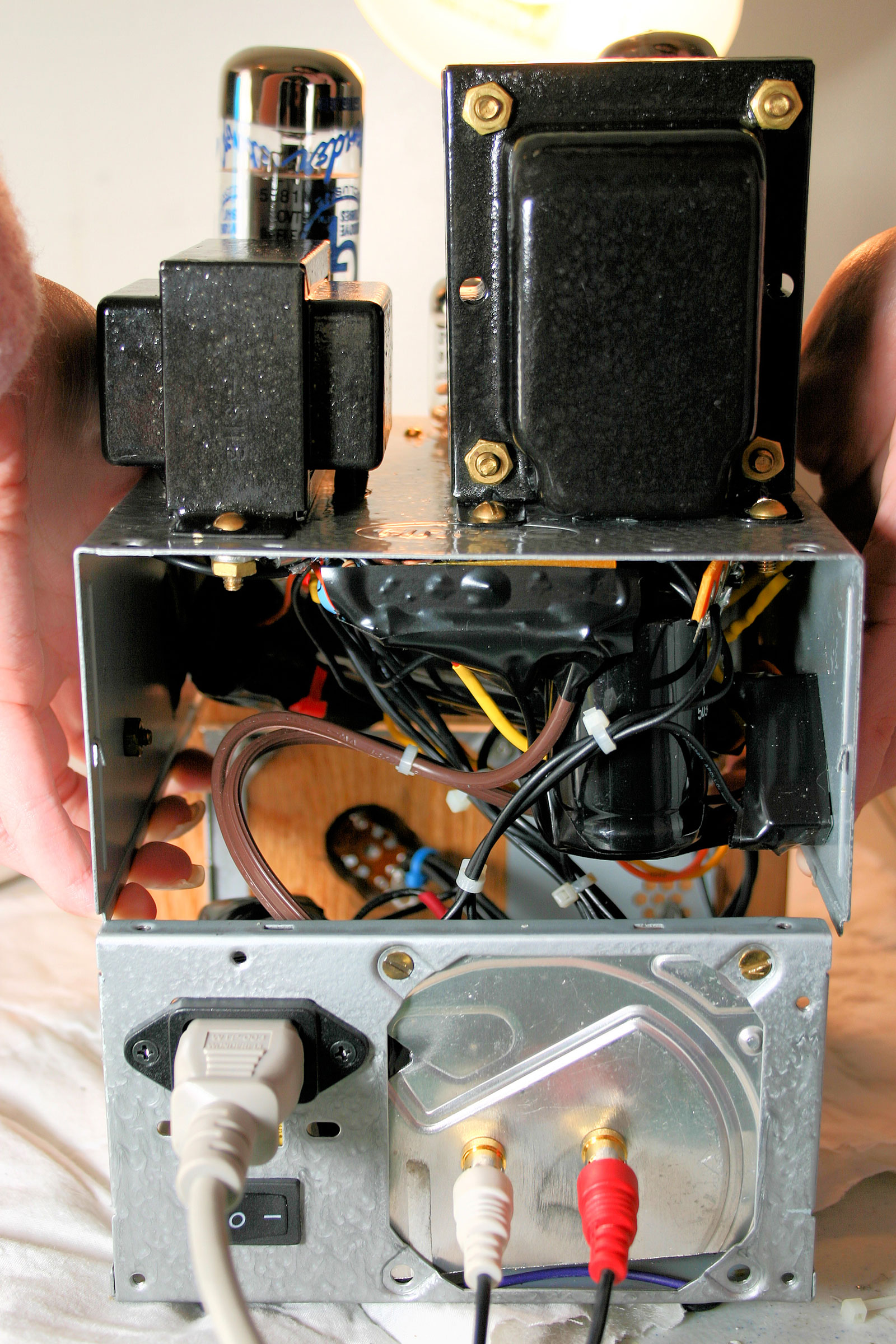 Up close on the coming together step.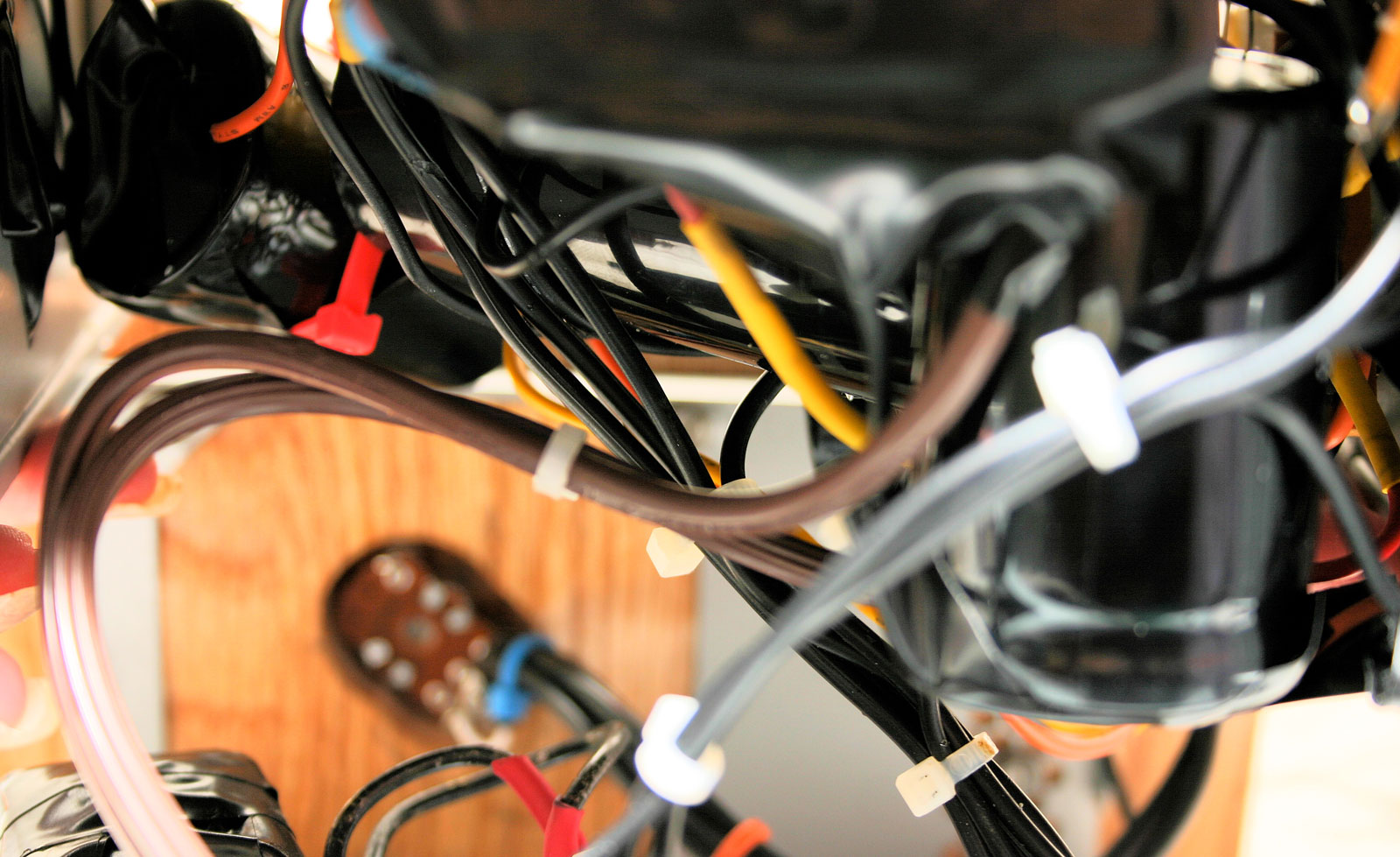 From the front...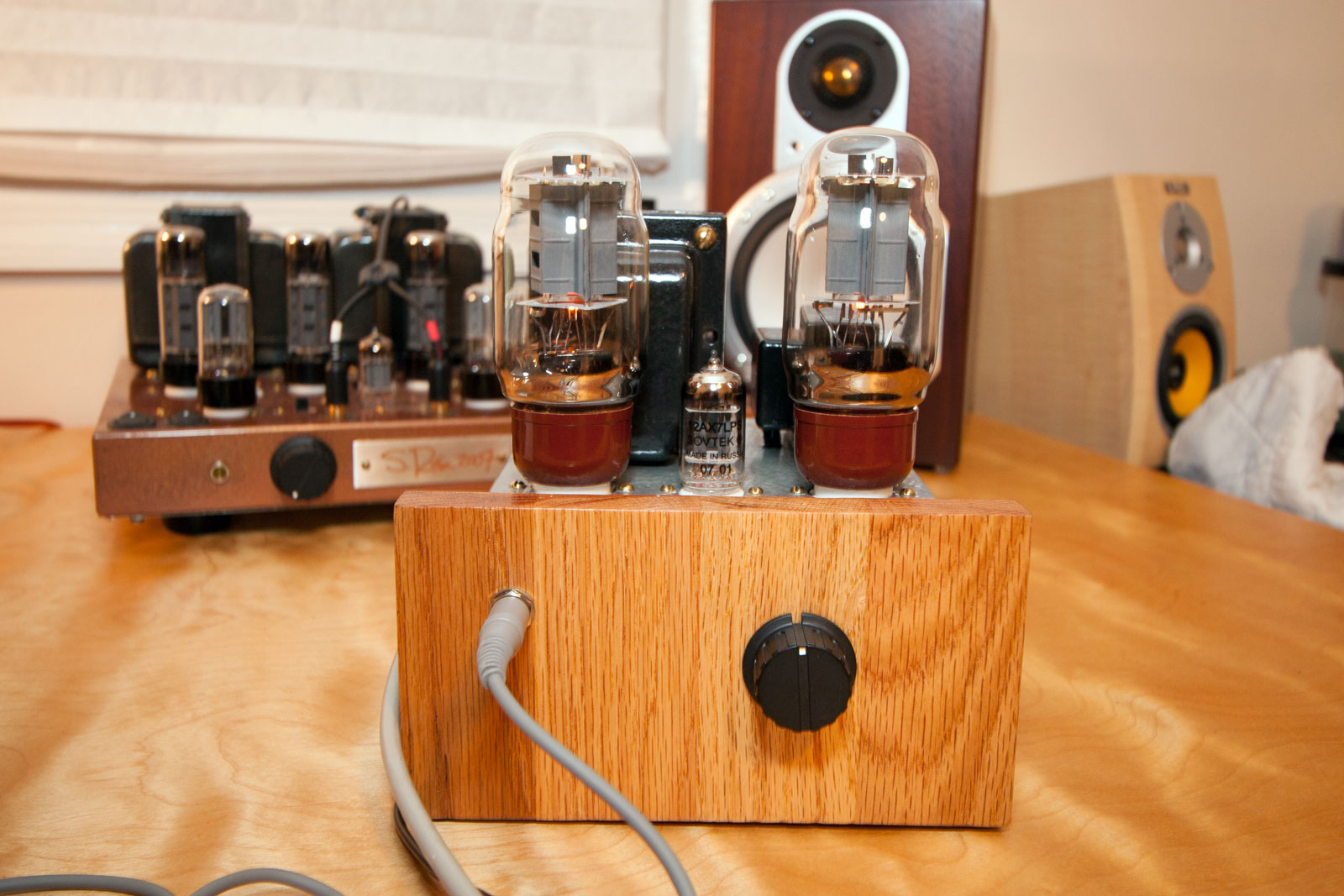 Almost a 3/4 shot.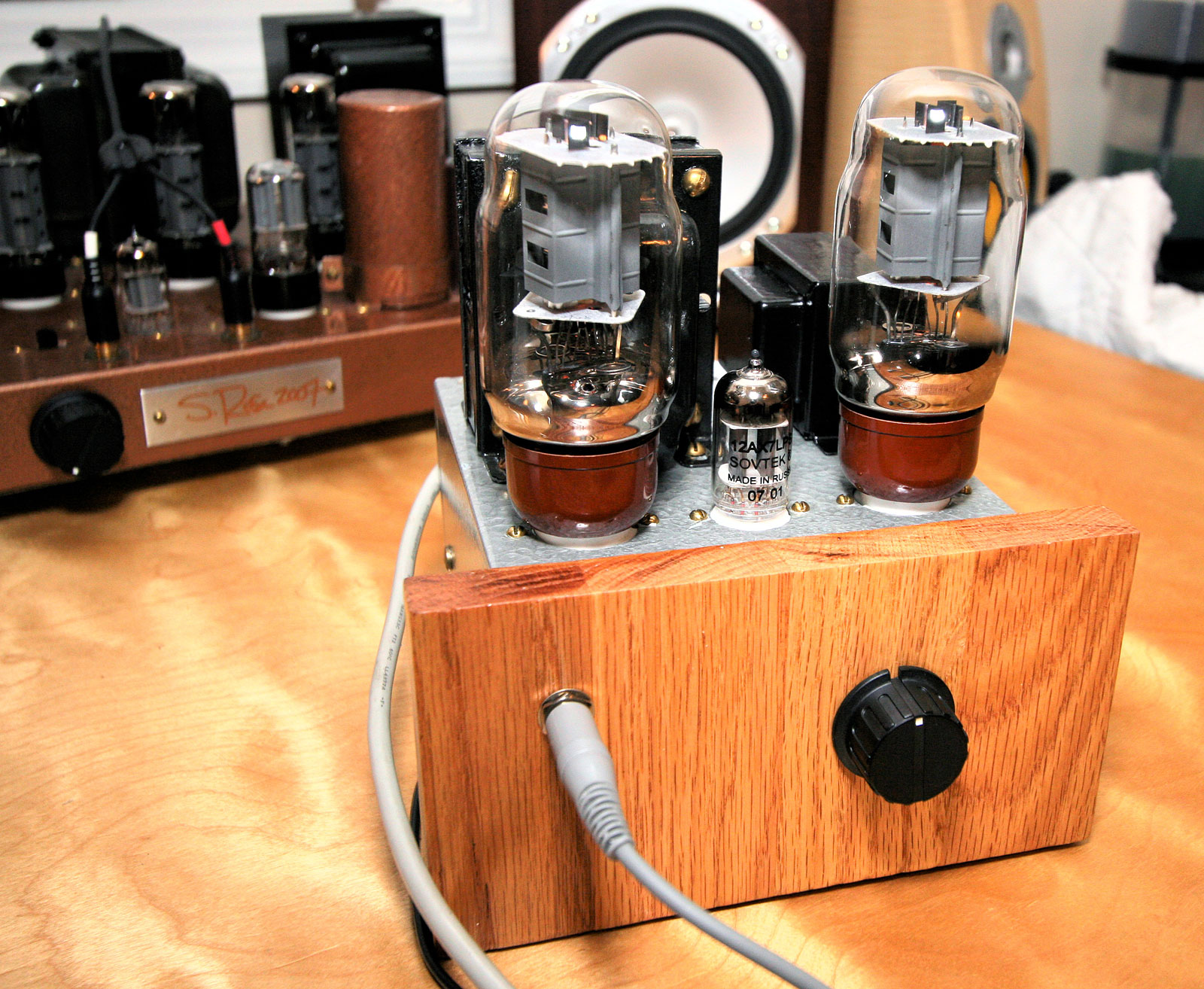 Tube headphone amp with my AKG 701s.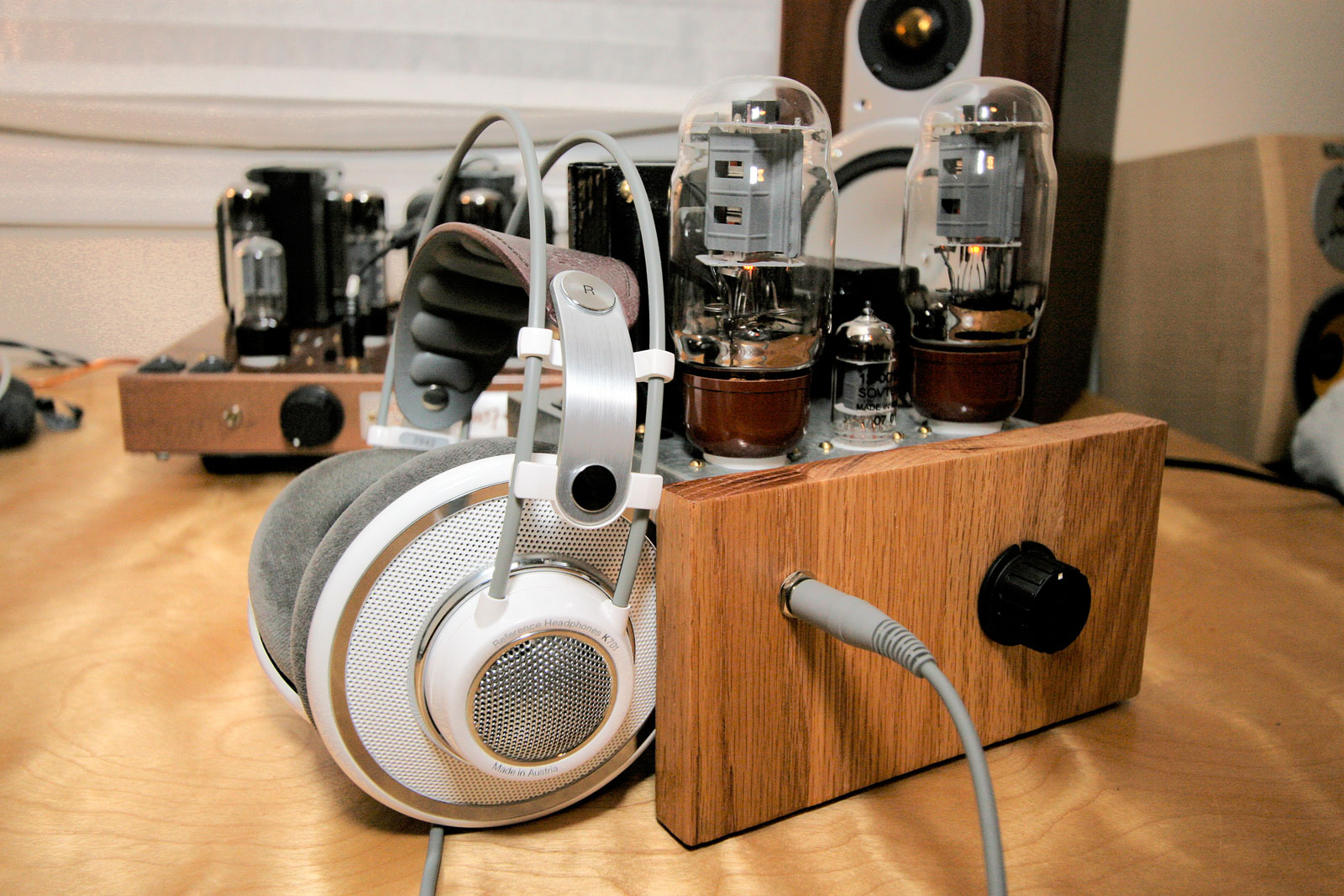 KT66 output tubes. I biased the amp faily lightly. After all, these tubes can deliver 50 watts of power through an output transformer, and maximum input power on the 701s is only 200 milliwatts. You can drop in EL34, 6L6, 6550 or KT88s too — no adjustment required.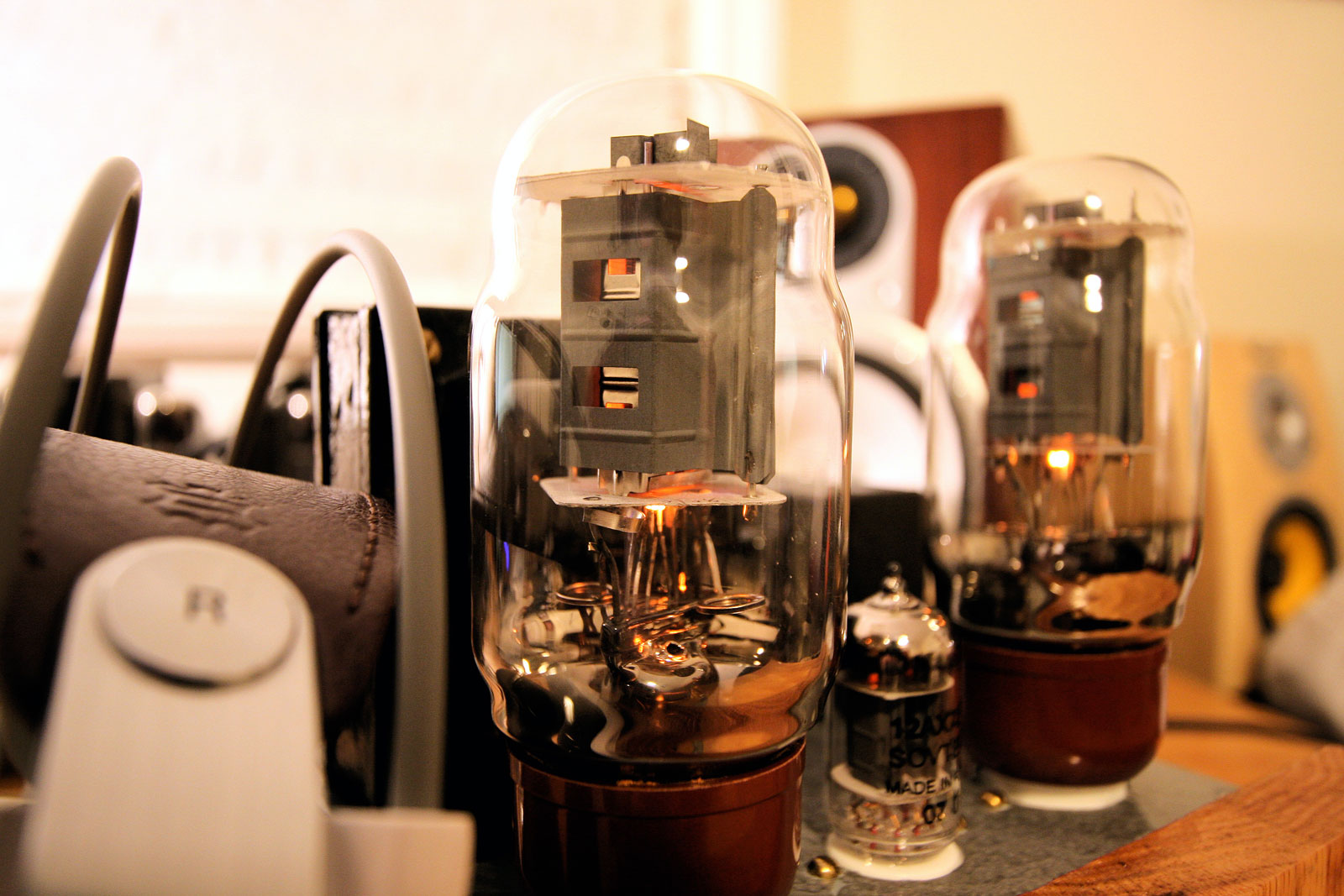 Starting the glow.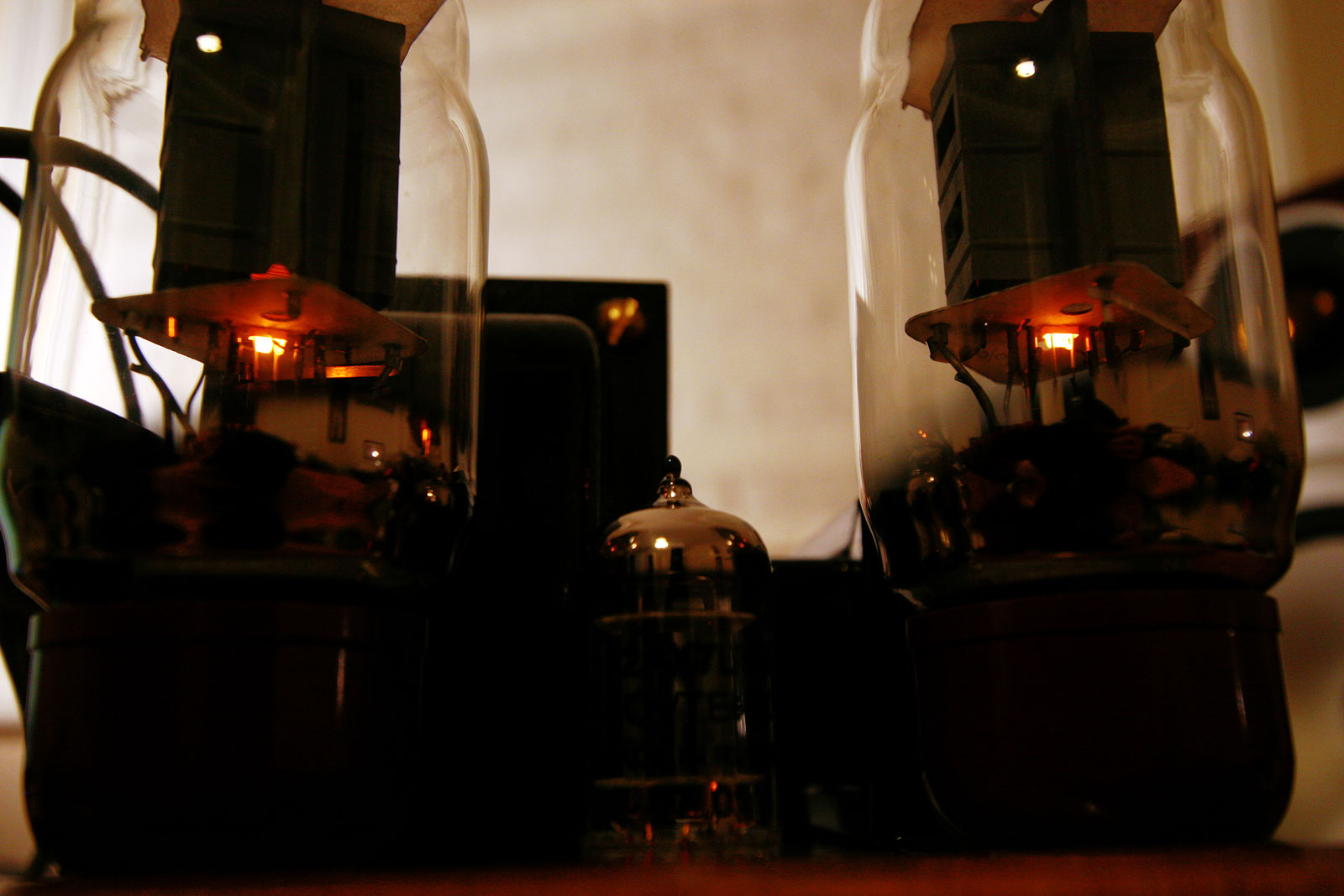 Almost there.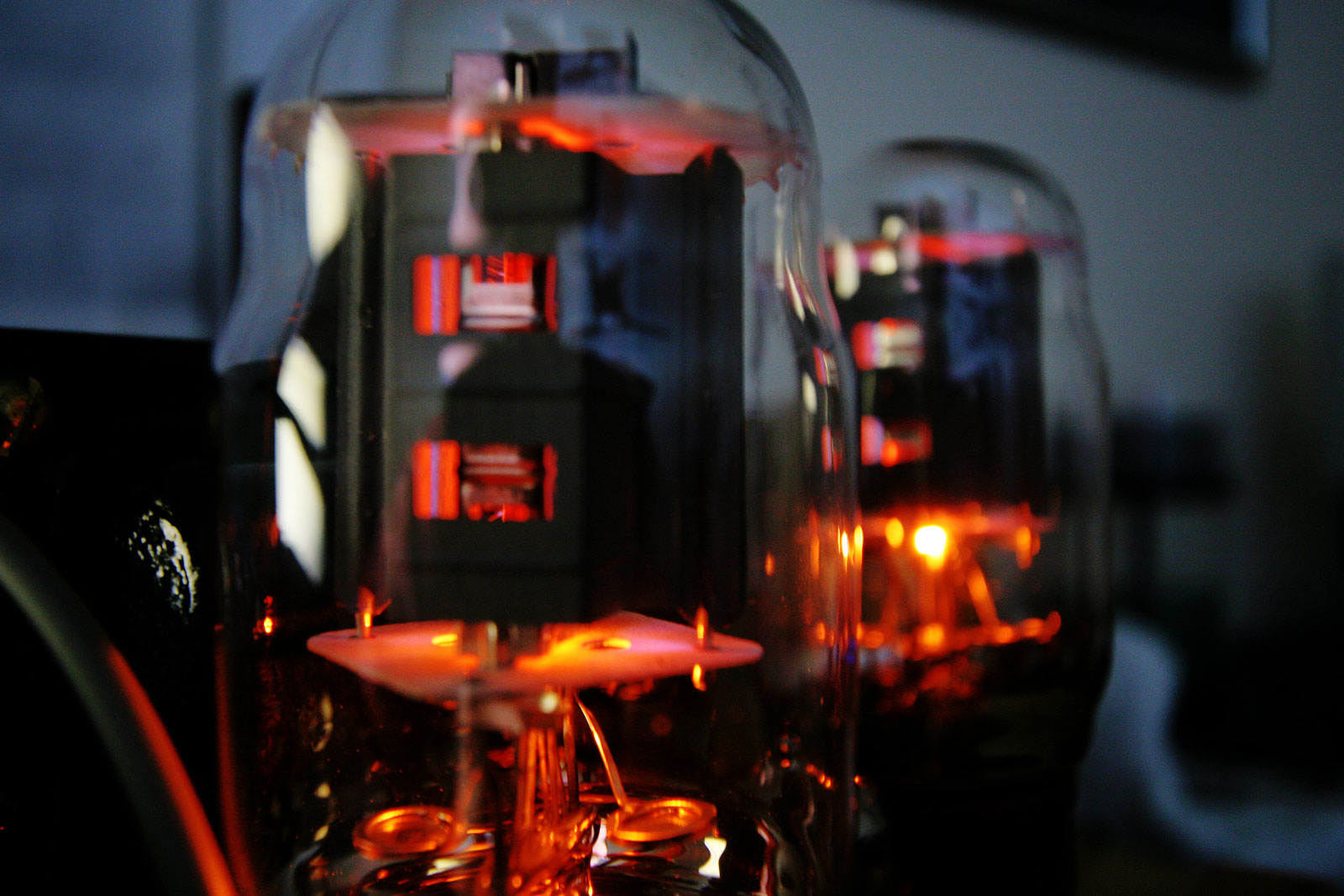 Full on tube glow.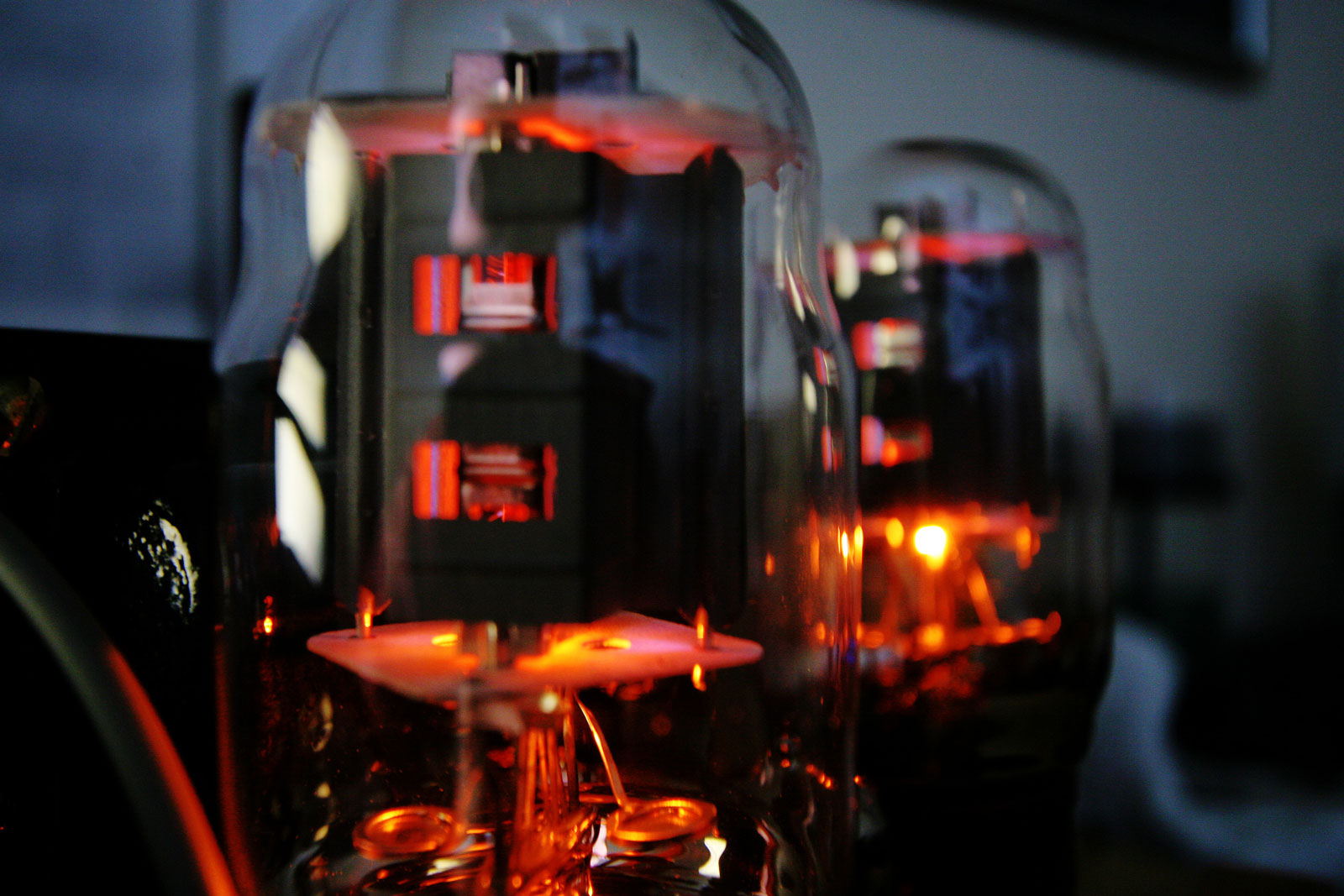 How Does It Sound?
The sound is very nice to say the least. Even just something as simple as jacking an iPod into this, instead of the headphones into the iPod, makes a HUGE difference in the sound. Some people would say why, but as I said above, the iPod can't drive a difficult load. This tube amp provides an easy load to the iPod and is far more capable of handling the difficult load that is the AKG 701.
I cannot say enough how wonderfully uncolored and impressive the AKG 701s are. Hearing them through a proper tube amp as this, just ups that so much more.
In the end, the project turned out so well, I never built the "real" version of this, I just use this one. It's relatively small and sounds amazing. In fact, this combo will eat many high end audiophile stereo setups... and headphones and all parts will set you back less than a decent CD player, let alone a decent speaker.
As has been said many times in Stereophile, the new crop of HD headphones coupled to a proper headphone amp is THE definition of high end audio.
In many ways, I agree.